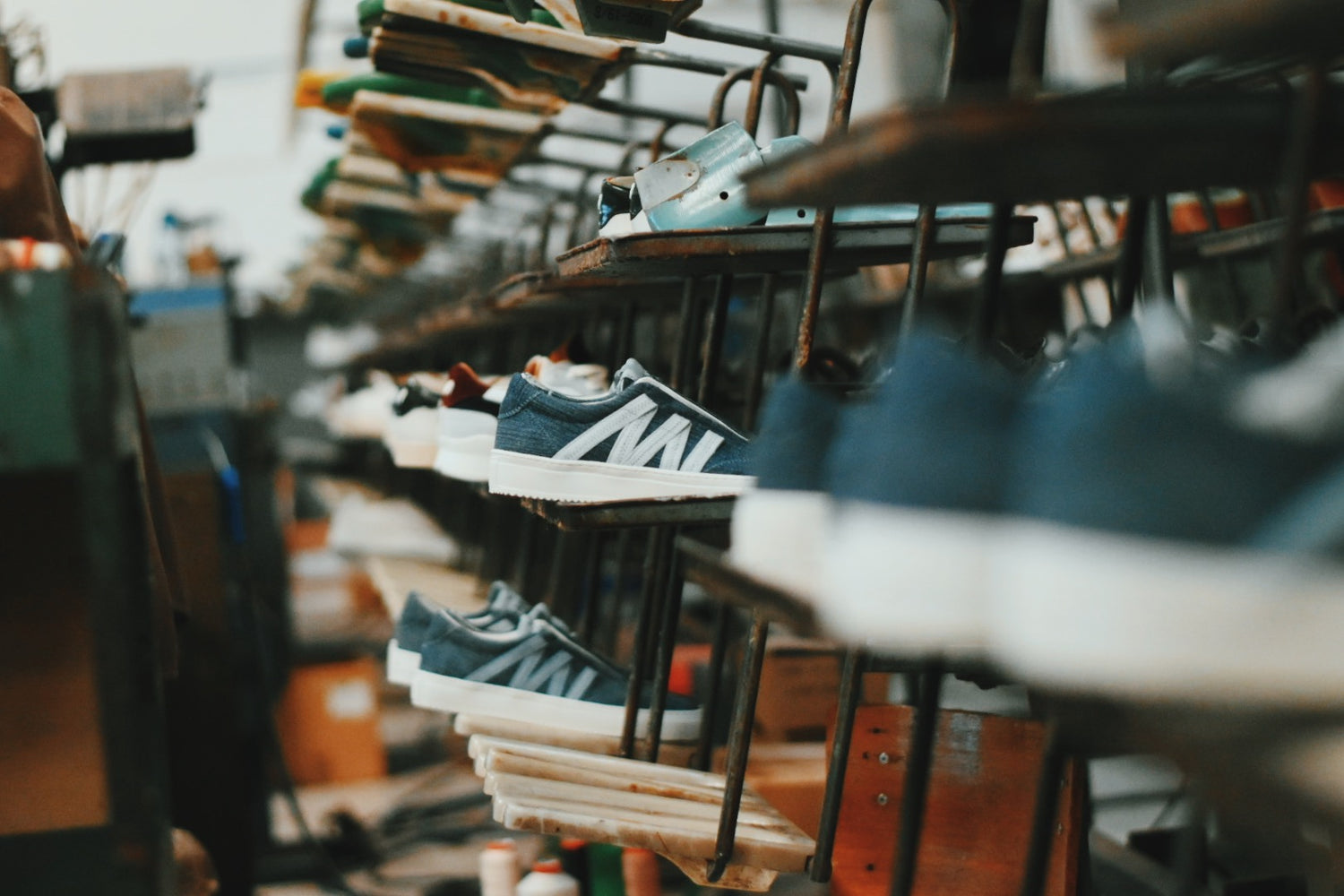 All textile waste has a story - now so does your sneakers
By using texile waste we can give the textiles a second chance by turning them into functioning products again!
You don't have to be an upcycling nerd like us, to believe that good things shouldn't go to waste. Unfortunately, tonnes of textiles are wasted every single day. We are on a mission to give as many of these textiles as possible a new life - one shoe at a time
From textile waste to sneakers
Our Textile Waste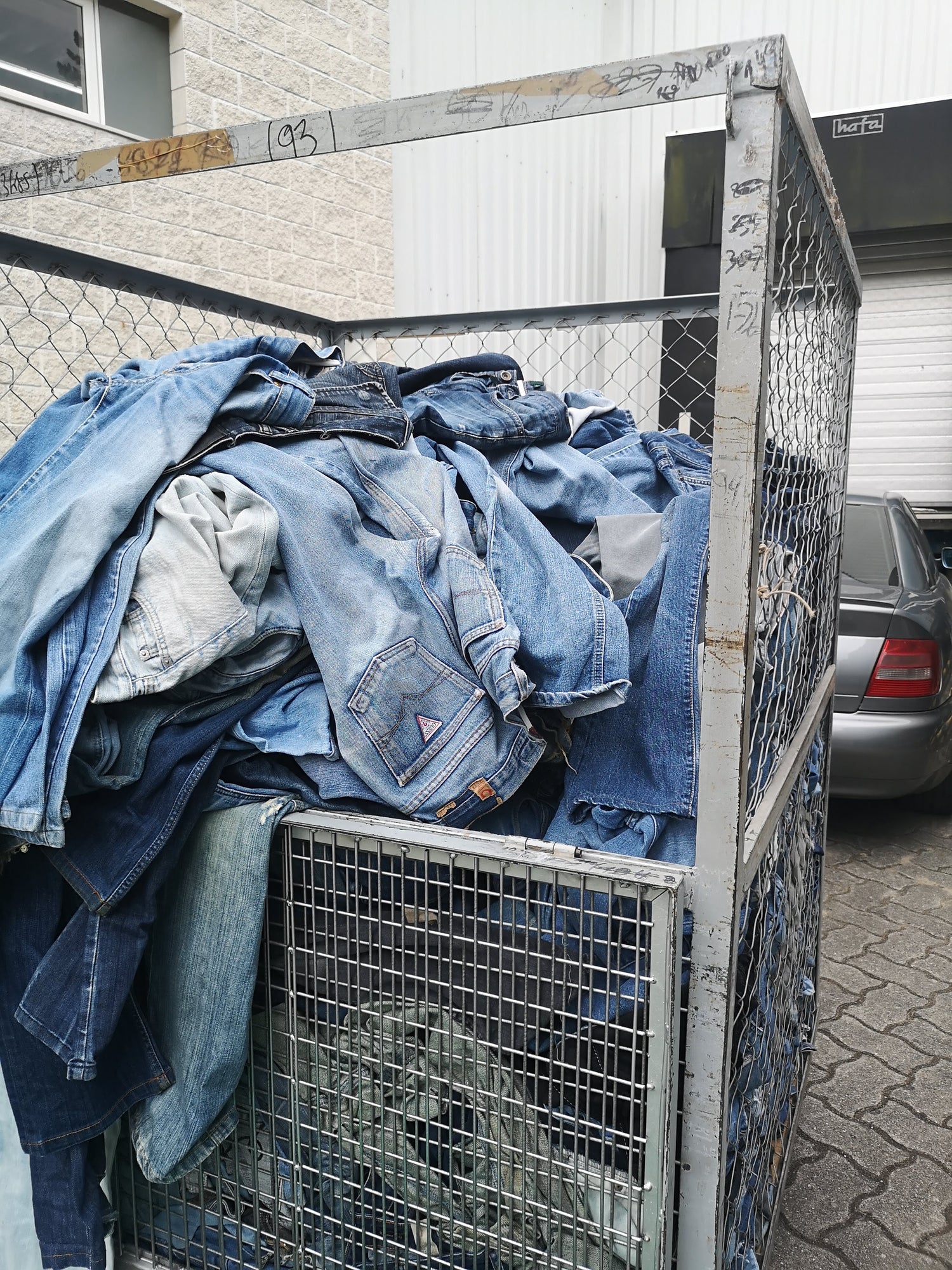 Jeans

Our jeans are sourced from the NGO Salvation Army Denmark and they receive jeans in abundance. Unfortunately, quite a few of these are not able to be resold, because they might have a hole or a stain. However, since denim is such an amazing and durable material, we can still give them a new life and transform into an awesome pair of VAER sneakers. 

We also receive durable clothing from other brands such as WHY 7 Jeans.
Workwear & table cloths

One of our other main textile sources comes from Elis, who specialises in making durable textiles for the health, service and safety industry. We mainly receive workwear that are not in an active collection anymore or table cloths that has lost its color and can no longer be used in fancy hotels and restaurants. This means, that when we receive eg. a pair of overalls, they have been produced but never been put into use before a new collection arrived. The overalls would normally be discarded - but in comes VAER and saves the overalls by making sneakers out of them.

We also source workwear from Europcar.
Transport
Proximity

We have done our best to keep our raw material suppliers and our factory as close to each other as possible - which means that all of our suppliers are located within the EU. As a matter of fact, we were lucky enough to find almost all of our suppliers and our factory in Portugal close to Porto. It is only our laces that we don't get from Portugal - we get them from Italy until we can find a good recycled cotton lace supplier in Portugal. 
Transportation methods

At the moment we are using Postnord to deliver our shoes. We deliver the shoes ourselves in the Copenhagen area by bike and we have become experts in biking with many boxes of shoes.
Our Production
Ethical production

It is extremely important to us to work with a factory that lives up to the highest standards when it comes to sustainability - both socially and environmentally. We are very grateful for finding our Portuguese family-owned factory, who were willing to work with our discarded textiles and we are constantly collaborating with them to find more sustainable production methods. The factory has responsible production practices and fair working conditions. For example, health care and maternity leave are offered to their workers and full time permanent employment is provided. The shoemakers work maximum 40 hours per week and are paid more than the Portuguese minimum wage.
At the moment, they are also working on getting a license for a more environmentally sustainable production - this includes installing solar panels on their roofs.
Do we create waste in our production?

Yes, we do - unfortunately. It is the classic "cookie cutter" problem, except for the fact that we can't take the leftover fabric and roll it into a new big piece of fabric. Therefore, waste will be created when we cut out the patterns in our shoe production.

You could argue that since we use discarded textiles, that these cut-offs would have been wasted either way. But our mission is to be able to use ALL the textile waste we get. Therefore, we are trying to limit the number of cut-offs being wasted as much as possible using our creative problem solving minds. For example, we are using it for the details on our shoes and are being as effective as possible in the placement of the pattern pieces.
Using the sneakers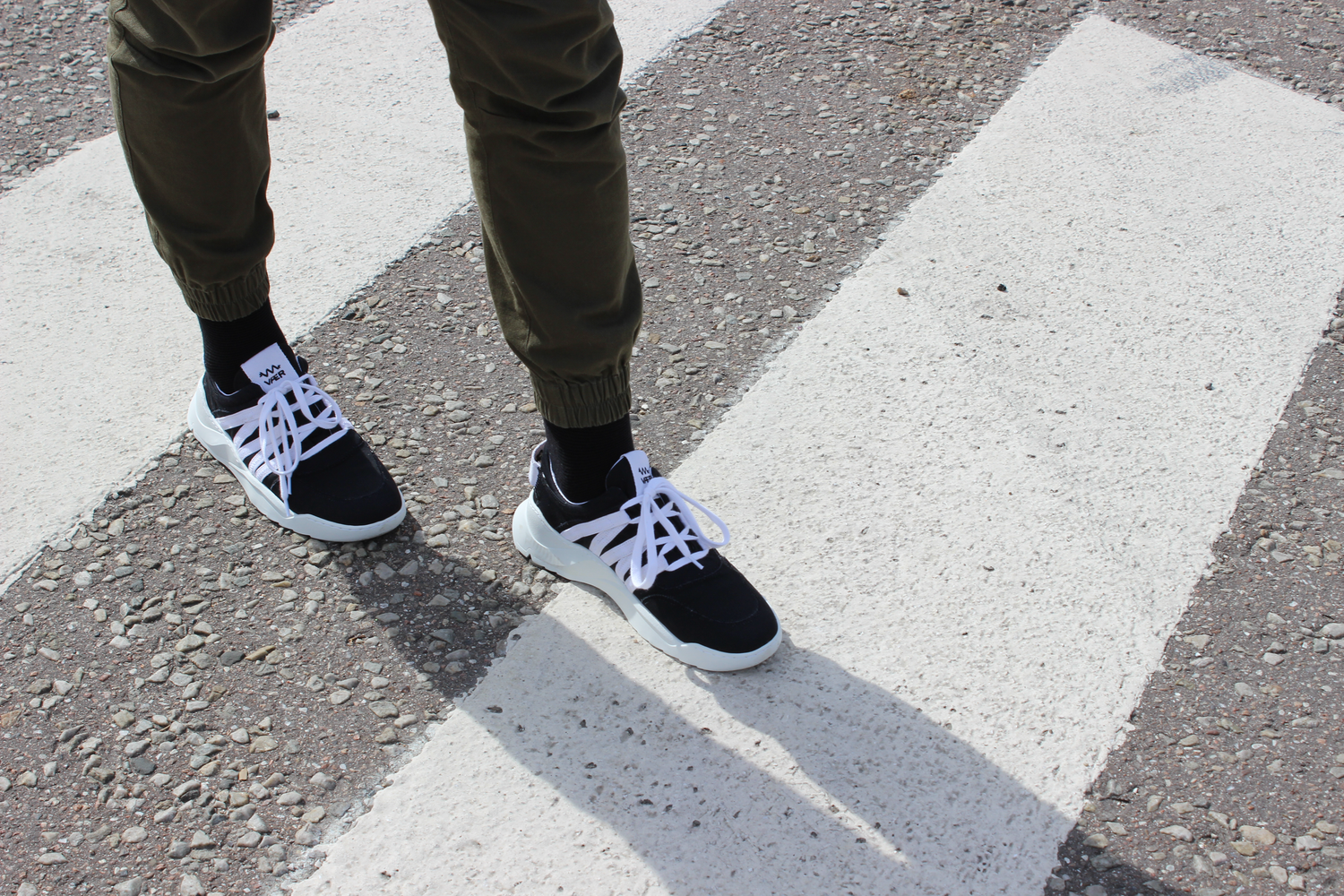 Durability

Extending the lifetime of a pair of shoes can limit its environmental footprint drastically. Durability and time-less design is therefore a high priority for us. We use high quality materials and they are constructed in a way that increases the durability.

Our goal is to prolong the lifetime, by enabling the separation and reconnection of the sole and the upper. So if one breaks it can be replaced.
Limiting chemicals and microplastic release

We are constantly working to eliminate the use of synthetics and chemicals in our sneakers. Conventional sneakers are made of various types of plastic - from an EVA or Polyurethane sole to a Nylon or Polyester upper all put together with toxic glues and reinforcement materials made of plastic. 

We prioritise sourcing natural materials such as cotton and natural rubber.
However, we do have some synthetics in our products that we have yet to find a more sustainable alternative to. This is for example the Polyester or elastane that is blended in the upcycled textiles we receive and in the foam in our sneakers.
End of Life
Recirculating

As we are responsible for putting products into this world - we also take the responsibility of taking them back and recycling them into new products.
Our sole manufacturer can take the shoes back and recycle them into new soles. They shred the whole shoe and then use it as input material in their sole production.
Take-back-programme

Have you walked all life out of of your shoes? Then we would love to take them back and recycle them back in to new soles.
In exchange you will receive a voucher to use on new VAER products.

How to
You can either return them to us in any of our stores or, if you are not in close proximity to any of our stores, you can send them back to us.
Just send us an email at: hello@vaerupcycled.com and we will send you a shipping label.

Before you send please consider:

Can it be reused?

If the shoes are in good condition but perhaps not your style anymore, we suggest you sell them or give them to a friend. Reuse is highest in the waste management hierarchy and always the best option in terms of retaining the value in the shoe.

Can they be repaired?

Are your shoes broken? Talk to your local shoe repair shop and check if the shoes still have a long life in them with a little TLC.